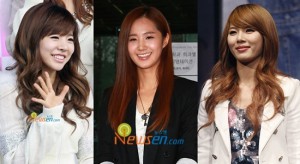 [Newsen Reporter Park Saeyeon]
Yuri and Sunny of SNSD and Hyuna of 4Minute will leave the KBS 2TV show Invincible Youth.
Kim Hosang, the PD of Invincible Youth, revealed that "Because of international promotions, Yuri and Sunny of SNSD and Hyuna of 4Minute will leave Invincible Youth. They have finished their last recording of the program on May 19th."
Both SNSD and 4Minute have their individual plans for promotions in Japan as well as other Asian countries, so it would've been difficult to continue on with the show.
Kim PD stated, "Currently, we are in the process of auditioning new members for the show. We will reveal who those members are in the beginning of June."
Kim PD told Newsen over the phone that "We are restructuring the program. I'm not sure which members will be added. I'm thinking hard about that right now."
On the other hand, Invincible Youth is a real variety where girl group members live in the idol countryside in Kangwondo. There, they plant crops, raise a cow, and get a chance to show their natural side.
The current G7 members are Narsha of Brown Eyed Girls, Yuri and Sunny of SNSD, Goo Hara of Kara, Hyuna of 4Minute, Hyomin of T-ara, and Han Sunhwa of Secret.
source: http://www.newsen.co…005141851301002
translation: soshi00@soshified.com