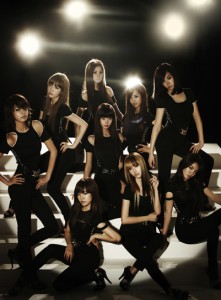 [OSEN= Reporter Lee Jung Ah]
Girls' Generation will be concluding their 'Oh!"Run Devil Run' promotion by the May 2nd performance.
Girls' Generation will be appearing on 30th KBS 'Music Bank' and May 2nd SBS 'Ingi Gayo'. The concluding performance will be in the
'Music Bank', which is broadcasted live, and in broadcasting-wise, May 2nd 'Ingi Gayo' will be the finishing performace. They have
already pre-recorded 'Ingi Gayo' performance last week.
On the last performance, Girls' Generation have shown 'Oh' and 'Run Devil Run'. Girls Generation, who has captured the hearts of the 'Oppas'
with "Oh!", and who received so much love after showing their charismatic, black side with "Run Devil Run", revealed their
determination to come back with a more mature image after ending their promotions this week.
Officials from Girls' Generation's company have stated from 30th phone interview with OSEN: "After May 1st's broadcasting, they
will be wrapping up 'Oh!"Run Devil Run' promotion. Members of Girls' Generation who's participating in entertainment programs like
'We Just Got Married', 'Family Outting', 'Invincible Youth', and musical will be appearing in it without any changes. As Girls'
Generation, please expect more matured appearance from us."
Meanwhile, On this day Girls' Generation have attracted the public by writing a thank you letter to their fans; celebrating their
1000th day since their debut.
Credits to: osen.mt.co.kr/ typicalharu
Translated by: soCOOL@soshified.com
Original Article: CLICK