[Newsen Park Sae Yeon Reporter] (psyon@newsen.com)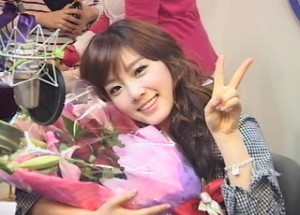 Girls' Generation Taeyeon has completed her final broadcast of 'Best Friend'.
Being a DJ for two years, Taeyeon has withdrawn her position as a MBC FM4U 'Best Friend' DJ since April 25th. Finishing her opening comment with a bright tone, Taeyeon has enthusiastically communicated with her fans on 'Transparent Radio' (Bora)
On this day's broadcast, All the members of Girls' Generation has appeared as a special guest; supporting her. Taeyeon had a honest talk with her fellow members, reminiscing some memories about 'Best Friend'. She tried to hold in her tears by saying "My lachrymal gland will explode. It'll be flooded.", but she eventually revealed her tears.
With the listeners' and DJ Bae Chul Soo's goodbye message, Taeyeon showed a sad feeling and shed tears during the third and fourth part of her show, without any guests. Taeyeon made the listeners feel great sadness with her tears all throughout the program
Usually, Taeyeon finished the broadcast by saying "Let's get more closer tomorrow", but because it was the last day for her, she left a forthright ending comment saying "Everyone, I will be back. We've gotten closer now.. I love y'all!".
Taeyeon was given the baton from Jo Jung Rin of 'Kang In and Jo Jung Rin's Best Friend' and became a madam of the show. She was complimented for receiving Rookie Radio DJ award from 2009 MBC Drama Awards, and her stable progress. However, due to her preparation for the musical "Tears of the Sun", and Girls' Generation's abroad activities, she had to withdraw from the program.
For the replacement of Taeyeon, Yoon Doo Joon from BEAST and IU will be temporally given the mic. Yet the perminent DJ hasn't been selected.
——————————————————————-
Credits to: Newsen.com, typicalharu, mishybear
Translated by: socool@soshified.com
Original Article: CLICK
Thanks to kelly and mishy…Oh my god I still can't get rid of my rust from translating..so if you find some grammatical errors..bear with me..I sincerely apologize
But yeap…the fact that we cannot listen to ChinChin anymore with Taeng DJ on it is just….depressing…T_T