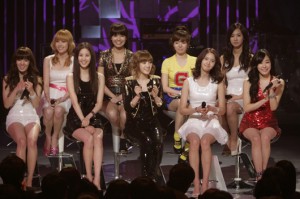 Girl group SNSD had a fun time choosing their imaginary international partners.
SNSD had a special stage in SBS's 'Kim JungEun's Chocolate'.
Sooyoung showed envy towards Seohyun, who is having an imaginary married life in MBC's 'We Got Married' by saying, "I'm so jealous that they can date in public."
Following the topic, SNSD members looked for their imaginary international partners for marriage.
Jessica chose Hollywood star Josh Hartnett as her ideal guy and mentioned, "We were performing at Pusan International Film Festival, and I was surprised that he was in the audience,
but it made me like him more." Also, Hyoyeon and Yoona both chose Japanese star Kimura Takuya and had a heated argument.
Yoona especially revealed an episode where she cried because she liked Kimura Takuya so much.
On another note, this stage was revealed to be Tiffany's idea. Tiffany mentioned prior to their performances, "I wish Korean girl groups will become the top of girl powers".
This episode will air April 11, 00:10.
Credit: Newsen
Translation: typicalharu@soshified.com/forums