SNSD Chosen as Models for Nintendo DSi!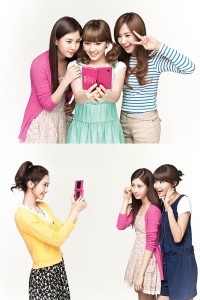 [TodayKorea = Reporter Son Soojung] The girlgroup SNSD has been chosen as the new models for "Nintendo DS Crimson/Black."
Nintendo Korea revealed on the 29th, "We hired SNSD as the campaign models for the portable game console, Nintendo DSi, which is a new model of the series from Nintendo DS Crimson/Black."
For the TV advertisement, Yoona, Sooyoung, Seohyun, Taeyeon, and Yuri are shown actually playing and enjoying the Nintendo DSi in various ways.
Taking pictures with the built in camera on the Nintendo DSi and using the 11 different functions to play around with the photos, the girls used the touch pen to transform their own faces into different forms, or transform their faces into Mario, having a fun time on the shooting set. They especially enjoyed the "Look-alike Camera" function. This allows you to take pictures of two people's faces, and after measuring how much your features look alike, it rates whether you are "strangers", "relatives", or "siblings", and as Yuri and Seohyun were rated as "twins". It said that they looked a lot like each other. Much of the public already know that these two look similar, but when they got this result, the two seemed to be very surprised.
Also, Taeyeon, Yuri, and Seohyun recorded their voices with the built in audio player function, Nintendo DSi Sound. With this, they replayed their voices and were able to speed up or slow down, or change the pitches of their voices, so they had a lot of fun changing each other's voices into odd ways. As they were recording themselves while singing their songs and having fun, they showed their natural, everyday expressions as if they were having their personal time with each other. Just as people have been saying that Sooyoung especially enjoys playing her Nintendo DS usually while travelling between TV program shootings or waiting backstage, she was the first to show interest upon seeing the Nintendo DSi. She was curious as to what features were new and what you could do with these features.
Nintendo Korea said about choosing SNSD as models: "Everybody in Korea of all ages loves SNSD, so by showing them playing with and enjoying the Nintendo DSi, we hope to show that anybody, no matter their age or gender, can enjoy previous games on Nintendo DSi and also use the pictures and sounds to do new things as well."
The TV ads will be slowly revealed starting on March 30th, and there will be videos in the TV ads that you cannot see on the Nintendo Korea homepage.
The Nintendo DSi will hit the stores on April 15th in 4 colours, white, black, blue, and pink.
*************************
Source: Today Korea
Translation: taengbear@soshified.com