Taeyeon, too sick to participate and cries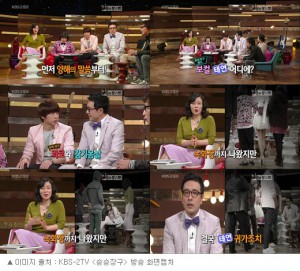 Images by: KBS 2TV show screen capture
[Max movie = Celebrity News] Taeyeon wasn't able to attend the 'Win/Win' show due to combination of cold and fatigue.
On March 23rd, KBS 2TV 'Win/Win' show started broadcast without SNSD's Taeyeon and the show's opening song had to be sang
with only MC Kim Seung Woo, Choi Hwa Jung, Kimg Shing Young , and 2PM's Woo young.
Kim Seung Woo started after the opening song saying, 'I think we have to apologies to the viewers' and started explaining Taeyeon's
health conditions, 'Since Taeyeon's sick due to her overwhelming schedule, she will not be joining us today.'
Choi Hwa Jung also added, 'Taeyeon came all way to the studio stage, but she was so sick that she was crying. Then she told us that
she was too sick to be on the show and left.'
After listening to the MC's explanation and seeing how Taeyeon left the stage with tears, the audience also felt bad for Taeyeon.
Taeyeon other than her active participation in performing SNSD's new song, 'Run Devil Run', she is currently working in
'Win/Win' show as MC and MBC FM4U's 'Taeyeon's Best Friend' as radio DJ.
Original: http://news.nate.com…/20100324n22684
Translator: DjAddick@soshified.com/forums