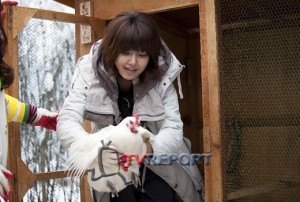 SNSD's member Sooyoung has caught the viewers' eyes by becoming a "One day G7" for 'Invincible Youth'.
In the next episode of KBS 2TV's 'Invincible Youth' which will be aired on March 19, Sooyoung has substituted for Yuri, who was diagnosed with H1N1 at the time of filming. Sooyoung has survived the intense welcoming and managed to present big laughs with her unique wit and humor.
In this episode, Sooyoung will show "aegyo that calls for a wooden stick" that will be almost as equal to Sunny's "aegyo that calls for a punch".
Sooyoung will especially get the love and attention of 'Village Chief' Noh Joohyun and 'Bear Taewoo' Kim Taewoo, making the rest of G7 members jealous.
Also, Sooyoung will wear a tearful face while experiencing the 'Invincible Youth' style country life, like getting trapped in the chicken coop while moving the chickens for building repair.
However, as she gets used to the lifestyle, she will catch the chickens without hesitation, eventually making a strong appearance as the "One day G7".
Credit: Sosiz
Translation: typicalharu@soshified.com/forums