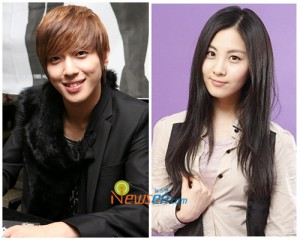 [Newsen Reporter Kim Hyung Woo]
How would the first encounter of Seohyun and Jong Yong Hwa like? CNBLUE's Jung Yong Hwa and Girls' Generation's Seohyun were chosen as new couple in MBC 'We Got Married'; and proceeded with their very first date.
Seohyun and Jung Yong Hwa have conducted their date on February 17th, at a major book store in Seoul Metropolitan area. Their first date garnered a great deal of attention. The pictures of them taken by citizens were quickly spreading out through the online and brought a huge attention.
Then how did Seohyun and Jung Yong Hwa's date looked like? The public's curiosity is about to explode because of this prim and proper girl's transformation into a newlywed right after her high school graduation.
One of the staffs have stated, that Seohyun's very first question towards Jong Yong Hwa was soo much like "Seohyun". Her very first question towards Jung Yong Hwa was "What is Your Outlook of Life?". Their explanation was that her question proclaimed much of her pureness and fresh charm. Furthermore, she asked questions like "What kind of books do you like" which made the spectators satisfied watching them trying to ask questions or start conversation that showed their true character.
Another staff has mentioned, that "We know that some of the fans are worried from the fact that Seohyun did an imaginary marriage even though she's too young for it. Also, they said "Being both clean and pure-hearted, Seohyun's charm will remain in her acting for the imaginary couple" "There is no need to seriously worry about her."
Credits to: Newsen.com (Reporter Kim Hyung Woo: cox109@newsen.com)
Translated by: socool@soshified.com
Original link to the article: LINK
———————————————-
It's been awhile since I translated an article about our girls and Seohyun :DD..thanks to all translators who helped me out on certain phrases in this article