Taecyeon – Yoona, couple ring's mystery solved through "Early Morning Drive to Misari"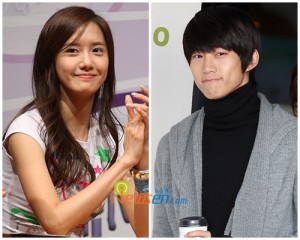 [Newen Reporter Lee Min Hye]
2PM Taecyeon and SNSD's Yoona enjoyed an early morning drive to Misari
Yoon and Taecyeon, in SBS' "Sunday is Good" First episode of, "Family Outing" which will broadcast its first episode on Feb. 21, took a early morning drive to Misari. In order to get to the shooting site, Yoona and Taecyeon took the same car.
It was apparent that they both felt very awkward taking the same car to go to the meeting location. However Yoona, regardless of the awkward atmosphere, she asked Taecyeon about the couple ring scandal. Yoona showed her ring saying, "This is SNSD's member ring" clearly expressing her dislike forTaecyeon's ring since it looked very similar to hers. Taecyeon, on the other hand, explained to Yoona showing her ring that "This ring was given to me by my parents".
After clearing up the couple ring scandal, Taecyeon and Yoona enjoyed rest of the early morning ride to the Misari in peace.
On the other hand, "Family Outing" season 2 members; Kim Won Hee(actor), Ji Sang Ryul(comedian), Shin Bong Sun, SNSD's Yoona, 2PM Taecyeon and 2AM JoKown went to Kang Won do, In Je Goon, Gom Be Ryung as a imaginary family. Their first episode will air on Feb. 21st 5:20 PM (KST)
Original: http://www.newsen.co…002171708571001
Translator: DjAddick@soshified.com/forums