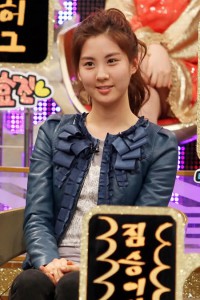 [NewsEn Reporter: Kim Hyungwoo]
SNSD's Seohyun confessed about the new song 'Oh!' in the recently recorded episode.
In the recent recording of SBS 'Kang Shim Jang,' Seohyun confessed, "I had a very difficult time recording the part that says 'Oppa Saranghae [Oppa, I love you]'. Although I practised several times beforehand, I just couldn't get myself to sing that part when we went in the recording room." After letting out a huge sigh, Seohyun continued, "I couldn't do it because the lyrics were just too much!"
When MC Kang Hodong made a special request to her to sing the song for him, Seohyun let out a huge sigh and didn't know what to do, displaying her innocent and cute maknae image, which caused everyone to burst into laughter.
On the other hand, SNSD's Sooyoung, who also appeared as a guest, commented, "In contrast, I was told to over-exaggerate my part!" Sooyoung then sang her over-exaggerated version of 'Oh!' which caused everyone to explode into laughter. On this day, each SNSD members revealed a cutesy expression of themselves, and also tried to imitate the expressions of other members.
The show will air on February 16th.
—
Source: NewsEn
Translation: Glucose@soshified.com/forums