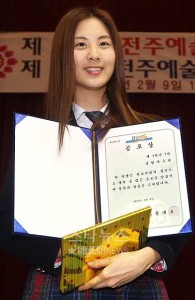 SeoHyun (real name, Seo, JuHyun), the youngest of 9 member girl group SNSD, graduated from high school on the 9th.
SeoHyun received her graduation certificate at the 13th graduation ceremony of Chun Joo Entertainment High School, in Mo-Ak-Kwan.
On this day, SeoHyun not only received her graduation diploma, but also the Achievement Award to appreciate her contribution to heighten the school name through her active entertainment activities.
On this day, her popularity was confirmed with a number of gifts and flowers from SNSD fans.
SeoHyun, now graduated from high school, will be a fresh woman in university starting this spring. SeoHyun was accepted by Dong-Kook University via 2010's First Occasional Entrance Exam, as a talented person.
Meanwhile, since SeoHyun graduated high school this year and also became 20 years old in Korean age, the 9 members of SNSD will no longer have any high school students in their group.
Source: [LINK]
Translator: Seohyun_is_Best@soshified.com
Congrats to Seobaby >