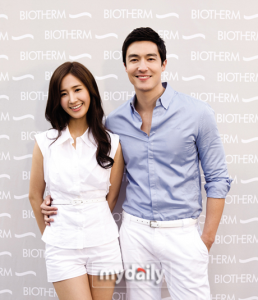 SNSD's Yuri is now Daniel Henney's partner.
Last 4th, the skin care brand Bio Therm revealed that they have chose SNSD's members Yuri, Sooyoung and Tiffany as their new models. Soon after, it was confirmed that Yuri and Daniel Henney, who is being very active as a model, have already finished shooting the first commercial film with the concept of a couple.
Representatives of the company said "We selected SNSD's Yuri, Sooyoung and Tiffany as our models since their clean, limpid skin and fresh, healthy image matches with the brand's image." also stating "We also expect that their overflowing vigorous energy along with Daniel Henney can bring a new vitality to the brand."
On this, Yuri, Sooyoung and Tiffany said "We will work hard so we can show a more healthy and beautiful image."
Meanwhile, SNSD is heavily promoting their 2nd album's title track 'Oh!' and Yuri is being extremely active as a 'Variety Queen' working as a MC with Tiffany on the MBC's music program, 'Show! Music Core' and also appering on the KBS 2TV's variety show 'Invincible Youth'. Sooyoung is going to appear as a MC too on the KBS2's 'Sweet Night' starting this March.
Source: mydaily
Translated by jek_093@ Soshified