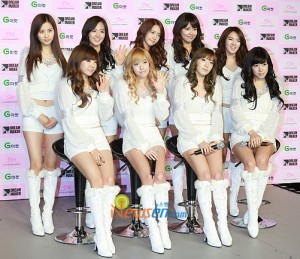 "We have never executed a precise calculation, but it is close to 1,000,000,000 won"
In 2009, approximately 1 billion won (USD 860,000) of expenses went towards SNSD's outfits on stage.
Not only did SNSD sweep the nation with their songs 'Gee' and 'Genie,' they were also the 'Soshi fashionistas' of the year.
SM Entertainment said "last year SNSD showed many different costumes for each performance of 'Gee' and 'Genie.'
Changing the costume that often for nine members would have cost around a billion won."
By calculation, for every stage performance there are 9 costumes, and for 100 performances there are 900 costumes.
If each costume cost 500,000 won with 100 performances, that would come down to 450,000,000 won.
Last year SNSD performed around 200 times.
SNSD is back with 'Oh!' released at the end of January, with increasing popularity.
SNSD's new album is showing off fashion such as the cheerleader fashion as well as a romantic girlish look.
It seems that costume costs will be quite hefty for this album too.
Translation: Just Love~! @ Soshified.com/forums
Source: Newsen