Yuri Will Not Appear in the Sitcom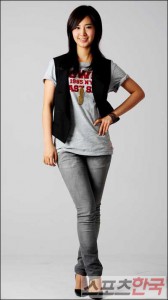 The sitcom would interfere with SNSD's Japan activities starting this May.
SNSD member Yuri's plan to appear in a sitcom has been cancelled.
Yuri was supposed to be casted in an MBC sitcom following the current "High Kick Through the Roof" in March. However, it has been known that Yuri recently notified the producer that she won't be able to play a part. MBC stated, "Since Yuri declined her role, we're in the midst of casting another actress at the moment."
Yuri gave up the spot on the sitcom just before signing the contract. During the middle of January when it was reported that Yuri was casted, the management did not state otherwise. In January, Yuri's company SM Entertainment's representative said, "The topic was being discussed, but there was no final decision on her appearance in it. I don't know much about the things that have to do with the actual acting. I will reply when I am sure," and he didn't say much. However, after this, the representative did not say anything else.
It has been released that Yuri will not appear in the sitcom anymore because of SNSD's Japan activities. MBC said, "I heard that SNSD will be holding activities in Japan starting in May. It would have been too hard to be in a Sitcom that airs in May and do overseas promotions at the same time." So it seems like she gave up her own person schedule for the whole group's activities.
In this sitcom, Yuri was initially planning on playing the role of the youngest of three daughters, and a fresh high school graduate who has no interest in university. Apart from Yuri, who resigned from this role, actors/actresses Ye Jiwon, Kim Sungwoo, Lee Sangwoo, and Choi Yeojin are to appear in this sitcom.
*********************
Source: Nate News and Sports Hankook
Translation: taengbear@soshified.com