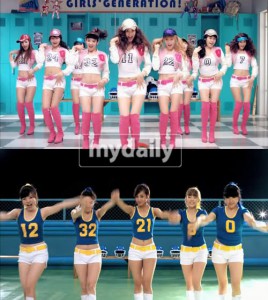 SNSD's "cheer girl" fashion seems already to be setting the trend since they came back to the stage with their second album.
SNSD revealed their title song, "Oh", for the first time on Jan 30th and 31st through music programs, and attracted the gaze of music fans with a fresh and witty cheer girl fashion, which was accompanied by a perfect intensive performance.
The fashion concept of "Oh!" this time focused on sporty looking cheer girl outfits, and it is planned that SNSD will reveal more interesting cheer girl outfits. It is also interesting because each individual member has their own preselected number that will be shown on their jersey/outfits.
It is not exaggerating to say that this year is the Year of Sports given the Vancouver Winter Olympics and South African World Cup. Therefore, the aspiration catches our eyes in that SNSD, nationally beloved, transformed themselves into the cheer leaders to support and encourage our athletes.
Since SNSD's fashion, as well as their songs and dancing attracted high popularity when they presented colored skinny jeans in "Gee" and the uniform fashions in "Tell Me Your Wish", it is expected that the cheer girl fashion will also come up in people's conversation.
Meanwhile, since the first broadcasting on the 30th, SNSD is enjoying an explosive popularity not only in the music source charts but also in the music record charts. This syndrome has been spread to the on-line and the situation is that SNSD related parodies are pouring out.
Source: [LINK]
Translator: Seohyun_is_Best@soshified.com
Can't wait to see their next concept (dark)