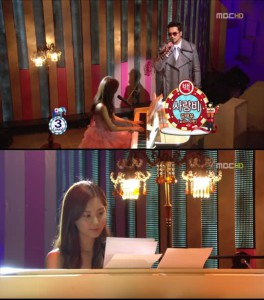 Kim Taewoo and Seohyun impressed their fans by providing an awesome fantasy joint performance on the 31st at Ilsan MBC Dream center, where gagmen Kim Goora and Shin Jeong Hwan, along with actress Lee Bo Young MCed the 2009 MBC Gayo Daejun.
On stage, Seohyun and Kim Taewoo surprised fans by combining perfect voicing and piano playing for Kim Taewoo's song, Love Rain. The performance was further enhanced due to the presence of a full orchestra. Seohyun's perfect piano performance and Kim Taewoo's explosive singing created a fantasy atmosphere in the building.
Other people present on the show were Kara, After School, Park Hyun Bin, Tae Jin Ah, Son Dambi, Jewelry, MC Mong, Kim Taewoo, f(x), SHINee, Park Jin Young, Lee Seungi, Park Ji Young, SG Wannabe, Brown Eyed Girls, Super Junior, T-ara, 4minute, 2PM, SNSD, Davichi, Shin Moon Hee, Chae Sor-ri, etc.
Source: [LINK]
Translator: Seohyun_is_Best@soshified.com
lolz second article ^^ again happy new year for those who had it already
MBC gayo daejun was awesomessss