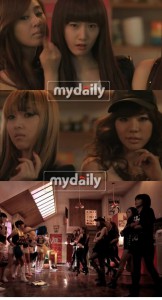 [MyDaily Reporter: Kim Kyunmin]
The music video of SNSD's second album title track 'Oh!' has been revealed.
SNSD's newest music video that was released on the 27th presented two different concepts, one of which includes the complete transformation into cute cheerleaders. In a blue locker room, SNSD members were dressed in pink, white and pastel-tone apparels which depicted a barbie-like image, while in a football stadium, the girls were dressed up in blue and white cheerleader uniforms.
However, SNSD members were faced with an unexpected surprise near the end of the music video. Facing the nine cheerleaders from across the room were another set of nine SNSD members with identical facial appearances but dressed up in black leather outfits, who were named as the "Bad" So Nyuh's (Girls). These nine SNSD members dressed in leather outfits were full of secrecy and charisma.
In regards to the music video, SM Entertainment representative commented, "the ending is intended to show a glimpse of the follow-up track and to raise curiosity amongst the fans about the complete transformation of SNSD."
The music video of 'Oh!' was filmed in Kyungkido, Ilsan and Paju and was directed by film director Cheo Soohyun, who helped display another charmful side of the girls by transforming them into cheerleaders.
In particular, the music video displaying the members as supportive cheerleaders in a football field added more freshness to the energetic, electro-pop track 'Oh!'.
SNSD's second full album will be released on the 28th through online and offline markets, and the group's comeback performance will be held on MBC 'Show! Music Core' in the 30th.
—
Source: MyDaily
Translation: Glucose@soshified.com/forums
______________
Watch the new SNSD music video!
[youtube_wide]lzVFyWNzjtE[/youtube_wide]