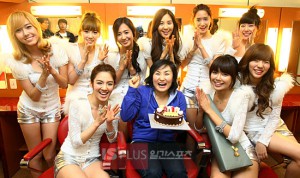 To SNSD…from Park Kyunglim
Hey guys~ what's up? It feels like yesterday when you guys were on "Park Kyunglim's Wonderful Outing", but time flies. Even at that time, you guys were receiving a lot of attention, but you guys were so polite and humble. I think I obtained a lot of energies by watching you guys work hard.
During that time, a thought occurred to me, "Soon, these girls will dominate the broadcast shows".
Despite being young, Sooyoung, you are able to connect with people well; Yuri, a smile never leaves from you; Hyoyeon, even girls are attracted by your dance; Yoona, you're a woman of unsurpassed beauty; Tiffany, you are a dorky girl who has an unique eye smile; Your bluntness is your charm, Jessica; Taeyeon, I always see you as a neighbor at 7th floor of MBC building; Sunny, you are like a refreshing vitamin; Finally, well-being Seohyun who brought steam cooked sweet potatoes for me!
Like always, I enjoyed this interview thoroughly. You guys are really bright, cheerful girls.
It must be difficult for you guys to handle busy schedules, yet you guys are still cheerful? I think that is what led you guys up to this point. I hope in 2010, you guys will continue to be healthy and give lots of energies to everyone~ As a fan, I will support you guys, forever SNSD~!!
To Park Kyunglim…from SNSD
Yuri: To our 'knee-drop-guru [someone who listens to one's problem and helps solve their problem] Kyunglim unnie' Forever~! After reading your book "A person", it feels like I'm reborn.
Tiffany: Kyunglim unnie~ It feels like yesterday when we filmed together for that show, but it is already 2010. I would like to congratulate your son's first birthday. I'm very grateful for your unchanging warm heart. I want to ask you to take care of us for this year as well.
Hyoyeon: To Kyunglim unnie, who never loses her smile, wherever she is! Ah~! I realized how you can enlighten the atmosphere by greeting the way you do. I have always wanted to be like you, unnie. I really appreciate your advices, whenever I see you.
Yoona: Unnie, I'm so sorry that I couldn't make it to your son's first birthday party. Like always, continue to show people how you can easily connect with everyone.
Sunny: Unnie, you never fear trying out something new. Unnie, you truly are an amazing person in this era. I will go and see your musical. Aja-aja. (variation of hwaiting)
Taeyeon: Thank you so much for treating nine noisy girls with your warm hospitality, as if we were your sisters. As you know, I'm a DJ for that radio station. I think that's why I feel like I'm close to you.
Jessica: Unnie! Congratulations on your son's first birthday. This year, I hope your family will be filled with happiness. Unnie, hwaiting!

Seohyun: Unnie, I really respect you for your optimistic personality and how you approach everybody with a genuine heart. I will work hard to be like you, someone who gives happiness to everyone.
Sooyoung: Unnie, like your husband, I want to be in love with my future husband and give birth to a son like Minjoon. I will pray for you that God will bless your family.
Written by: Kim Sungeui @joongsang.co.kr
Translated by: cathode @soshified.com/forums
Edited by: nerD @soshified.com/forums
Original