SNSD's side revealed that they will take legal action against Yoon Seoin, a web cartoonist, for inciting a sexual harassment controversy on SNSD.
Through a phone interview with SM Entertainment on 18th, they said, "We delayed releasing an official statement regarding this matter because we were researching the author's cartoon and examining the feasibility of taking legal action. Even though the web cartoonist has released an apology on the 18th, the author only mentioned how his intentions were misunderstood but did not apologized to SNSD at all".
It all started when the web cartoonist posted 592th chapter of "Joy Ride – a past picture of Ladies' Generation". (Pic below)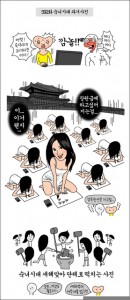 This chapter shows nine girls wearing a simple overall and taking an exam in an odd position. The exam paper reads, "Gee Gee Gee Gee Gee." The word bubble reads, "I would like to pass this exam". The chapter ends with , "For New Years, Ladies Generation smashes the dough together as a group".
The sexual harassment controversy began when it was speculated that this paticular webtoon could potentially be misleading. When the controversy became worse, Mr. Yoon deleted that chapter and released an official apology.
Yoon Seoin said, "By making a reference to this one particular news article, I tried to portray numerous false news articles being written about girl groups. However, my intentions were misunderstood, and seeing other news article reproducing my webcartoon with different content, I decided to take it down. It is all my fault for not articulating well enough and thereby causing misunderstandings. I am sorry for causing trouble, and to those have read my web cartoons".
Written by: Choi Sungdo @seoulpost.co.kr
Translated by: cathode @soshified.com/forums
Original