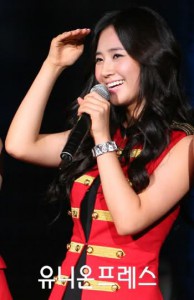 Yuri will be able to meet many viewers through her sitcom.
MBC's daily sitcom that is to follow after "High Kick through the roof" will feature SNSD's Yuri.
Within the three sisters that will be shown on the sitcom, Yuri will play the youngest sister, who is kind of a dorky screw up. Yuri's sisters will be Ye Ji Won, who was in the movie "Old Miss Diary", and Choi Yeo Jin who portrays an intelligent image
In the year of 2007, on a KBS daily sitcom, Yuri, along with Sooyoung and FT Island's JaeJin portrayed high school students entangled in a love triangle.
Currently, Yuri is also the host of MBC's "Show Music Core" as well as a member of G7 in KBS 2TV's "Invincible Youth".
On one hand, "High Kick Through the Roof" Was supposed to end on the second week of March, but the last episode's air date has been extended to March 19th.
Source: [LINK]
Translator: Seohyun_is_Best@soshified.com