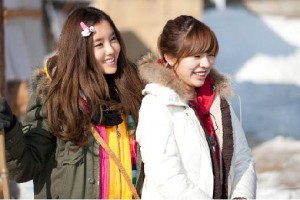 A member of T-ara, Hyomin, said that she would like to be closer with SNSD's Sunny.
Hyomin revealed her hopes for new years on an upcoming KBS2 'Invincible Youth' episode, which will be aired on the 15th. Hyomin said, "This year, I would like to avoid being edited out completely. Also, I would like to be closer with Sunny".
"As long as I'm with Sunny, I'll get more air time", said Hyomin. It snowed so much that it was up to one's knee. So Hyomin followed Sunny everywhere, while shoveling the snow.
When Kim Shinyoung saw this, she joked, "From now on, then we should call Hyomin 'Sunbyung' [a pun of Sunny+folding screen]", and people laughed.
Then Han Sunhwa added, "I improved a lot because I was with Sunny; you can model her and learn a lot".
Meanwhile, 'Invincible' team went out to shovel the snow in Hongchun, Kangwondo because it snowed over 30cm (more than 1ft).
Two days prior to the filming schedule, it has been snowing in Honchung. With fifty soldiers, the 'Invincible' team went there to shovel the snow on ginseng fields and roads in the vicinity of the church. It took a total of four hours to shovel over 2 000 pyong [approx. 71,170.975 675 sq ft].
Written by: Lee Kibum@asiae.co.kr
Translated by: cathode@soshified.com/forums
Original