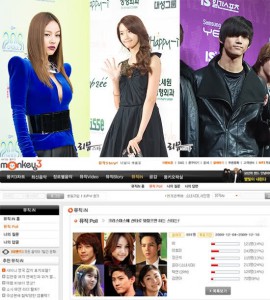 A music site, monkey3, had a poll during the week of December 4th to 11th where 891 people participated in the poll 'Which star would you like to have as Santa Claus, and visit your house?'
For the upcoming Christmas holiday, Lee Hyori was voted as the number one pick, over Rain and SNSD's Yoona.
Out of the 891 people, 243 people voted for Lee Hyori (27%), and commented "If Lee Hyori were to come to my house, I would be so happy that I wouldn't want any other presents", and "I think I would be able to have a bright and joyful Christmas with Lee Hyori".
Second place was given to SNSD's Yoona, who obtained 213 votes (24%). People reasoned "I think she would make us happy with her songs and aegyo", and "I think she would be able to whisper Merry Christmas with a cute and sweet voice to me".
2PM's Taecyeon came in 3rd after Lee Hyori and Yoona with 129 votes (14.4%). Female fans supported him fully and stated "He would make a sexy Santa".
In 4th place with 121 votes (14%) was Rain. Following him in 5th and 6th places were Jang Geun Suk (115 votes, 13%) and Kim Yu-Na (70 votes, 8%) respectively.
Currently, the website monkey3 is taking another poll, "Which Korean Singer would come in 1st if they were to appear on American Idol?".
Source: Yahoo Korea
Translation: Seohyun_is_Best @soshified.com/forums