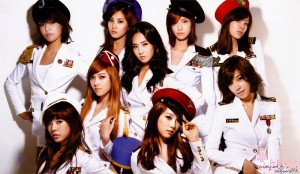 SNSD, the nine member girl group has broke through the 200,000 mark for total sales in 2009.
According to the music sales site Hanteo.com, SNSD has sold 201,386 copies
of their total five albums in the period of January 1st to November 30th of 2009.
The second mini album 'Tell Me Your Wish' has sold approximately 85,000 copies,
the first mini album 'Gee' has sold approximately 81,500 copies,
their first album 'Girls' Generation' sold 13,500 copies, their 'Baby Baby' repackage
has sold 12,000 copies and their 2007 summer hit debut single 'Into The New World'
has sold 9,500; totalling to 200,000 copies of their albums sold in 2009.
SNSD took 2nd place for most albums sold in 2009. First place went to none other than
the 43 album released, 1992 debuted Seo TaeJi. He sold 226,924 albums this year.
2NE1 took first place for most sales of one album in the female artist category.
According to Hanteo they sold 88,970 copies of 'I Don't Care' until late November this year.
Big Bang's leader G-Dragon took first place for most sales of one album with
127,186 copies of 'Heartbreaker.'
Source: Star MT
Translation: Just Love~! @ Soshified.com/forums
Image Credit: xxLove812 @ Soshified.com/forums