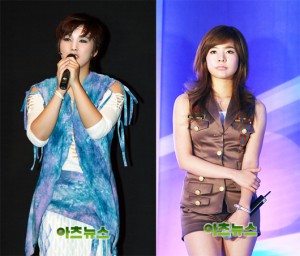 On the 21st on November on 'Star Golden Bell,'
Super Junior's Sungmin and Sunny had a sparking argument.
Sungmin picked Sunny as the 'person who doesn't seem like a celebrity.'
The day after SNSD had practised their choreography past midnight,
Sunny greeted Sungmin "Oppa, hi?" with crusty discharge in the corners of her eyes.
After that incident Sungmin said that he could not view Sunny as a celebrity.
Sunny then gave a snappy comeback "Sungmin has stinky feet!" making a huge episode of it.
Sunny and Sungmin have done radio DJing together,
Sunny claims that Sungmin had taken his socks off in the radio booth.
She said "I thought someone had opened up the sewers!" Everyone bursted into laughter.
Source: Arts News
Translation: Just Love~! @ Soshified.com/forums