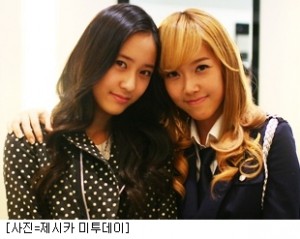 SNSD's Jessica and f(x)'s Krystal have risen to the top of the family stardom poll.
Jessica and Krystal were voted first place for a poll on Monkey3.co.kr for 'Best
Stardom Family' gaining 40%(232 votes) of a total 585 votes. The poll ran from
October 31st to November 6th.
Many voters commented 'Both girls have such talent and beauty', 'DNA from heaven',
'The superior sisters.'
Second place went to 2NE1's Sandara Park and MBLAQ ChunDoong with 34% (198 votes),
third place went to Kim Taehee and Kim Ewan with 18% (108 votes).
Furthermore fourth place went to SS501's Kim Hyungjoon and U-Kiss's Kibum; 3.4%
(20 votes), fifth place goes to movie star Ko Euna and MBLAQ's Mir; 3% (18 votes),
sixth goes to Kara's Kang Jiyeon and NS Yoonji; 2% (9 votes).
Monkey3 members noted "there was a large influence on the votes as popular idol
group members Jessica and Sandara Park's younger sisters debuted as singers"
Source: Joy News
Translation: Just Love~! @ Soshified.com/forums