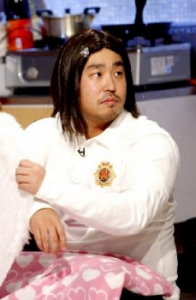 (Gil. Photo by = MBC. ⓒ 2009 CNBNews
The member of male duo "Leessang", Gil, made an appearance on the cable channel KBS JOY's program "SNSD's Hello Baby" as a one-day father.
Before the recording, Gil stated, "Since we are familiar with each other, I think it will be fun recording it." and "I also have confidence in babysitting."
However, when the recording started, the baby Kyungsan started to cry whenever he saw Gil's face, making the recording impossible to progress. Even with the encounter of an obstacle, Gil tried everything to be closer with the baby, but it all failed, making his experience as a one-day father a hardship.
In addition, Gil was surprised and became nervous when SNSD's Ice Princess, Jessica appeared. "I still can't forget when Jessica appeared on 'Infinity Challenge' and her bold charm could even paralyze Park Myungsoo". On that day, Gil showed a weak expression everytime he stood in front of Jessica, creating laughs.
His experience as a one-day father will be broadcasted on the 3th, 11:10PM, through KBS JOY.
source: here
No photo of Jessica. T_T