'Invincible Youth', First episode jumps to 1st place in it's time slot, Amazing 'Girl Power'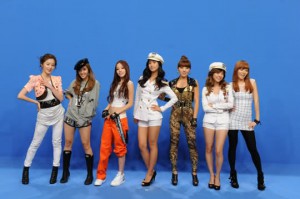 [OSEN's Reporter Kim Minjung]
KBS 2TV program 'Invincible Youth', which has a cast consisting of members from various popular girl groups, showed its potential by going up to the first place in it's time slot in the program's first episode.
According to AGB Nielsen Media Research, on the 23rd in its first episode 'Invincible Youth' had ratings of 9.8%, earning the first place in it's time slot with a 1% difference with competition SBS's 'Married Celebrities Show My Dear', which had 8.8% ratings. MBC's special 'Becoming mom in your forties' reached 7.9%.
'Invincible Youth' is the first girl group variety show, consisting of the so called 'G7' (Girls Seven) Yuri (SNSD), Sunny (SNSD), Narsha (BEG) Hyuna (4Minute) Goo Hara (Kara), Hyomin (Tiara) and Han Sunhwa (Secret), while the 'Uncle support' is formed by MCs Noh Joohyun, Nam Heesuk and Kim Taewoo, and comedian Kim Shinyoung helping as the only female MC.
On its first broadcast aired on the 23rd, the girl group members from 'Invincible Youth' caught the viewers' attention by revealing their faces without makeup as they prepared to go to the countryside. The girls showed a different side of them, too, performing in a talent show in front of the village elders and making them feel as they were their real granddaughters.
'Reservist Oppa' Kim Taewoo, knowing that the girls would be uncomfortable without a proper bathroom, got good reviews on his appearance in the program and showed an ususual side of him, using his military service experience and making an outhouse from the scratch. Moreover, MC Noh Joohyun and Nam Heesuk showed that they can easily lead the program making the audience laugh every now and then with their antics.
'Invincible Youth' is a promising and unique variety show, and after its sucessful first episode, there is high interest in it, and also if it can keep showing more of it's 'Girl Power' in the future.
Source: OSEN
Translation: cph@soshified.com
Editor: cedge@soshified.com