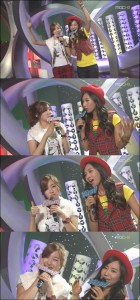 [Newsen Reporter: Lee Mihye]
SNSD's Tiffany selects Mariah Carey as her "Wannabe" star.
In the recent recording of MBC 'Show! Music Core' which broadcasted on the 17th of October, Epik High held their farewell stage by performing 'Wannabe.' After their performance, SNSD's Yuri asked Tiffany, "Who is your 'Wannabe' star?,' in which she responded, "My 'Wannabe' star would have to be Mariah Carey. Her singing ability is outstanding. She's the best."
Due to a hot demand by Yuri, Tiffany proceeded by singing a song by Mariah Carey.
Other performances on this day's 'Show! Music Core' include 'Trickling' by Wheesung, 'Mister' by KARA, 'MUZIK' by 4minutes, 'Vari2ty' by Jewellery, 'Father' by Insooni, 'In a Pallid State' by Gavy NJ, 'TTL Listen 2' by Tiara and Supernova, 'Betrayed' by Tae Goon, 'After Love' by Park Hyo Shin, 'Love Rain' by Kim Tae Woo, 'I Thought' by Rebirth, 'No Crane Among Chickens' by I'm a Woman Who Graduated from Ewha, 'Lucky Girl' by LPG, and 'T.T Dance' by Ham.
Reporter: Lee Mihye, macondo@newsen.com
Source: Newsen
Translation: Glucose@soshified.com/forums