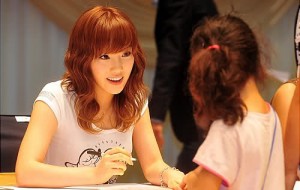 Photo Credit: MD Today
Taeyeon, SNSD's leader, had a touching event for the members that made their eyes fill with tears.
Taeyeon's surprise video message to the other members was revealed on SNSD's real rest variety 'Beauty N Diary Season 2', which shows SNSD's true selves while on vacation at a boarding house. The September 25 episode was entitled 'Cheer Up SNSD!' and in it the members congratulated each other because it was their second anniversary after debuting.
The episode started with video messages of citizens honestly and sincerely cheering for the members. While the members were immersed in the video messages, Taeyeon snuck out of the room and her video message to the members was shown. In it, Taeyeon cheered the members on by saying that they had done a good job and worked hard until now and that they should continue to work hard in the future. All the SNSD members were touched by this message.
After Taeyeon's video message, there was a surprise party and Tiffany's eyes were filled with tears as she said that even though it was their second anniversary, it was the first time that the members had congratulated each other.
According to a staff member that was present, all the members yelled, "Hurray Beauty N!" They also thanked 'Miero Beauty N' staff members multiple times for setting up the event.
Source: http://www.mdtoday.c….html?no=100259
Reporter: Nam Yeonhee (ralph0407@mdtoday.co.kr)
Translation: jreddevil07@soshified.com/forums