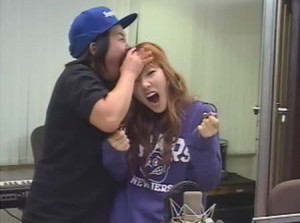 Photo Credit: Star News
A picture of comedian Kim Shinyoung (25) 'capturing and eating' SNSD's Taeyeon (20) is causing a lot of people to laugh.
On MBC FM4U's 'Taeyeon's Chinhan Chingoo [Close Friend]' Bora [streaming video radio] broadcast on the 30th, a screencap was taken, showing Kim Shinyoung biting DJ Taeyeon's head. Taeyeon's expression in the screencap is fairly realistic.
The radio audience that was watching at the time said such funny comments as, "Kim Shinyoung has captured and is eating Taeyeon," "DJ Taeng has been captured and eaten, so today is the last broadcast of 'Chinhan Chingoo'."
Since Kim Shinyoung's broadcast is right after Taeyeon's, she decided to make a special appearance.
Taeyeon's 'Chinhan Chingoo' broadcasts every night, from 8:00 PM to 10:00 PM. Kim Shinyoung's 'Shindong, Kim Shinyoung's Shim Shim Tapa' on MBC Standard FM broadcasts every night from 12:05 AM to 2:00 AM.
Source: http://star.mt.co.kr/view/stview.php?no=20…link=2&SVEC
Reporter: Hyun Jiseung
Translation: jreddevil07@soshified.com/forums