[09.17.09] Big Bang – Soshi, No.1 popularity for male and female singers for the second half of the year
Big Bang and So Nyuh Shi Dae took the first places for the category of "singers" in an entertainer popularity ranking for the second half of the year.
From the 25th to the 31st of August, the results for the "Entertainer Popularity Survey" were determined by the Leespiar Research Institute with the participation of 1,320 males and females with an age range of 13~65 in 5 cities from around the country (metropolitan area, Busan, Daegu, Gwangju, Daejeon).
So Nyuh Shi Dae took the first place (31.8%) in the female category in this time's survey overwhelmingly through their new song "Tell Me Your Wish" amidst the rise and battle of the girl groups and the girl group wave while Wonder Girls haven't had any activities in Korea due to their activities in the U.S..
Following SNSD, 2NE1 ranked 2nd (15.8%) due to the success of a continuous hit song parade while Lee Hyori ranked 3rd (15.3%), Wonder Girls, who are pushing on their U.S. activities, 4th, and Son Dambi 5th (10.2%).
In the male category, Big Bang surpassed 2PM by an eyelash and went up to the first place.
The representative idol group Big Bang maintained 23.5% and surpassed group 2PM, which maintained 21.7%.
The 3rd place went to world star Rain (16.9%), the 4th place to Lee Seunggi (10.4%) and the 5th place to DBSK (5.2%).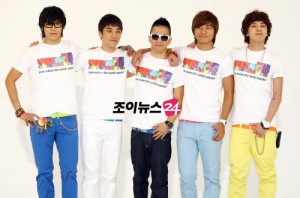 In this time's survey, the replies were collected through a 1:1 individual interview without giving examples for groups and up to 2 names were possible. The results were calculated based on the average number of responses and with a confidence interval of 95%, the margin of error is +-2.70%.
Source: Joy News
Written by Park Jaedeuk
Translated by Xeth@soshified.com/forums
Edited by Soy@soshified.com/forums