[09.15.09] LG Electronics, SNSD and f(x) recruited as models for "New Chocolate Phone"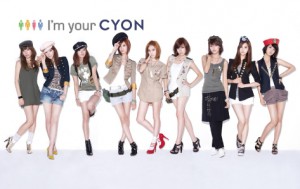 LG Electronics recruited Korea's top girl group So Nyuh Shi Dae and newcomer group f(x) as models for the "Black Label Series 4 – New Chocolate Phone" which is planned to come out at the end of September in Korea.
After "Chocolate", "Shine", "Secret", and many more from the Black Label Series, the "New Chocolate Phone" has become the highlight product from LG Electronics in 2009 to continue the success story. Even with a maximization of simplicty from the existing Chocolate phones, the multi-touch phones still have a 4 inch LCD display with a 21:9 ratio.
LG Electronics revealed that they recruited representative girl group SNSD, which is composed of 9 members and has a fanbase with not only the young generation in the 10-20's but with people from all ages, as the "New Chocolate Phone" models because they appraise the purity, fineness and together with various sides of the group, the excellent ability to bear every style as high.
f(x) is a multinational 5 member girl group with an average age of 16.6. They officially debuted in September with their single album, "LA chA TA". Using powerful music and style, they're getting attention not only from Korea, but as an icon for Asia's music.
Through SNSD's pure and lively image and f(x)'s powerful image in contrast, LG Electronics plans to promote the sensuous and exceptional charms of the "New Chocolate Phone". The ad is planned to air starting in October.
The vice president from the Korean department of the MC (Mobile Communications) office of LG Electronics, Jo Seungha, emphasized, "The 'New Chocolate Phone', integrating the LG Electronics' cellphone design abilities, will bring fresh wind through its different marketing, starting from the launch into the cellphone market in the second half of the year".
Source: LG
Translated by Xeth@soshified.com/forums
Edited by Shadow@soshified.com/forums