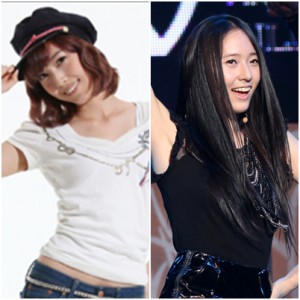 SNSD's Jessica (left) and f(x)'s Krystal ⓒPhoto=SM Entertainment
9-girl group SNSD's Jessica(20) gave an encouraging message to her younger sister Krystal(15) who made her debut through the 5-girl rookie group f(x).
On the 15th, after the press conference about the production for the musical 'Legally Blonde' at the Seoul Samsungdong Coex Artium in the afternoon, Jessica showed her worries about her younger sister during the meeting with Star News.
"Krystal made her debut at a younger age than me. Making an early debut can be a good thing but I'm still worried" said Jessica, caring as a older sister, not as a senior singer.
"However, Krystal, being a strong girl, will do a good job"; "I also heard from manager oppa last year that she was doing great", said Jessica with a smile on her face.
Then she said, "Actually, before I started my activities, I didn't have time to spend with her so I didn't know she could sing, dance and talk so well like that"; "Learning/practicing dance and sing in a fast time to the point of being capable of debuting already never crossed my mind", feeling proud.
"I hope Krystal can work hard in the future like how she is doing now"; "Surely, similar aspects between us will appear because we are sisters, not because she is trying to follow her older sister. But with each one of us carrying a different charm, it would be good if hers could be explored.", requested Jessica.
On a side note, 'Legally Blonde', which it has the same name with the Hollywood movie, it's originally a musical from Broadway. Jessica will play the female protagonist Elle Woods together with actress Lee Haniu and actor Kim Jiwoo, making their performance on the November, 14th at the Coex Atrium.
translation by: jek_093
souce: here
Sorry about any typos. Sleepy… T_T