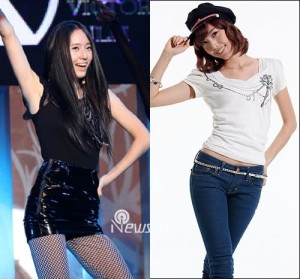 Photo credit: Newsen
f(x)'s Krystal displayed her love for her older sister Jessica.
Krystal met with a reporter on the 11th while in a waiting room at the KBS New Building in Yeouido, Seoul for KBS 2TV's 'Music Bank'. She said, 'My sister came in person to cheer me on for my first broadcast performance.' She smiled while saying, "She gave me a lot of advice.'
Krystal continued by saying, 'Immediately after our pre-recorded performance, she came to our waiting room and wiped the sweat off of me. She had a worried expression on her face while she was wiping off the sweat and told me, 'Your expression isn't good. Work harder on it.' I was very thankful to her.'
She also said, 'I'm very close to my sister. It seems like we can read each other's minds. We often think of similar things, even though we're at different locations. Our personalities, though, are a little different. My sister is feminine, while I am a little more easygoing. I feel very secure thanks to my sister. I haven't been able to see her that often recently, but our feelings for each other are the same as always.'
SNSD's Jessica gathered attention by visiting the MBC Dream Center in Ilsan, Kyungkido on the 5th. She was present at f(x)'s 'Music Core' pre-recorded performance in order to cheer for Krystal.
f(x)'s debut song is 'LA chA TA', which was produced by Kenzie. It is a pop dance song that combines the feel of electronica with the groove of hip-hop. The song's message is to 'enjoy life', and it charms listeners with its witty lyrics and cheerful melody.
The title 'LA chA TA', which stimulates people's curiosities, is a fun exclamation that is easy to pronounce and one that accentuates the brightness and cheerfulness of the song. People are looking forward to the newly-coined phrase and the song becoming big hits.
Source: http://www.sosiz.net/info_data/5222483
Reporter: Kim Hyungwoo (cox109@newsen.com)
Translation: jreddevil07@soshified.com/forums