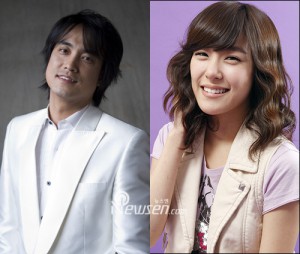 Yurisangja's Park Seunghwa confessed his desire to sing a duet with SNSD's Tiffany.
On MBC 'Come To Play-Duo Duo Special,' Park Seunghwa confidently selected SNSD's Tiffany when asked the question, "If you could perform a duet with another Korean celebrity, who would it be?"
In addition, Park Seunghwa made everyone laugh by confessing that he had "recently dreamt about Tiffany and have become attached to her because of it."
Yurisangja's second member Lee Saejoon caused the entire studio to burst into laughter by joking, "So that's why Park Seunghwa's face seemed a lot brighter that day. I thought he was happy because his wife went home or something."
MBC 'Come To Play-Duo Duo Special' will be aired on September 7th.
Source: Newsen Entertainment Tube
Translation: Glucose@soshified.com/forums