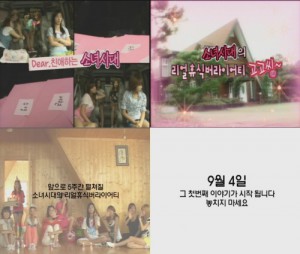 [Newsen Reporter: Yoon Hyunjin]
The hidden everyday life of SNSD will be revealed on the second season of 'Beauty N Diary.'
The second season of 'Beauty N Diary' has already become a large issue due to its successful predecessor, which was downloaded over 100,000 times within 15 days on various websites. The first season, released last June, contained footage of SNSD at various places including a baseball field, movie theatre, and an art gallery.
The second season of 'Beauty N Diary' is about SNSD's pension holiday. SNSD was given four themes: 'Soshi's Mypet,' 'Soshi's UCC (self-cam),' 'Do Whatever You Want Soshi' and 'Tell Me the Truth.' The second season will share with us a story of the members, who were previously unable to even consider a vacation due to their overwhelming schedule, just simply being themselves. They will be shown enjoying their beautiful pension holiday and spending some sweet time with the group, while discussing stories related to the four themes.
Hyoyeon's suspicious eyes upon receiving an invitation, Sunny's sweet date with a puppy that resembles her, Taeyeon grabbing the megaphone for the girls' UCC , and Tiffany constantly drinking 'Miero-fiber' while taking good care of her skin; these various scenes of the girls, displaying their natural image and enjoying themselves, will be revealed.
Beginning on August 28th, new previews of 'Beauty N Diary' will be released on the Miero homepage every week until October 2nd. These previews will bring good news especially to the fans who are saddened by the end of the 'Tell Me Your Wish' promotional activities.
Reporter: Yoon Hyunjin, issuebong@newsen.com
Source: http://www.newsen.co…908271153361001
Translation: Glucose@soshified.com/forums
Edited by: Shitro13@soshified.com/forums
—
[youtube_wide]lJe64kioTkY[/youtube_wide]
Credit: prot0980