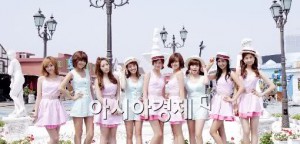 Photo credit: Asian Economy
SNSD has occupied the top spot in album sales in Thailand for four straight weeks.
SNSD released their second mini album "Tell Me Your Wish" in Thailand on the 30th of last month. Since then, they have occupied the number one spot on the 'B2S TOP20' chart (July 27 – August 23).
The 'B2S TOP20' is a weekly album sales chart that is released by B2S, Thailand's biggest record store chain. "Tell Me Your Wish" also hit number one on its 'International Music Chart' as soon as it was released.
The album also occupied the top spot on the 'GRAM POP TOP10' chart for two straight weeks (July 28 – August 9). This chart is put out weekly by the large Thai record store chain GRAMOPHONE.
In Korea, SNSD have set a record with their first album 'SNSD', first mini album 'Gee', and second mini album 'Tell Me Your Wish' all having sold more than 100,000 copies.
Source: http://www.asiae.co.kr/news/view.htm?idxno…082713330161616
Reporter: Lee Hye Rin (rinny@asiae.co.kr)
Translation: jreddevil07@soshified.com/forums