[08.15.09] SNSD's Plans After "Tell Me Your Wish?"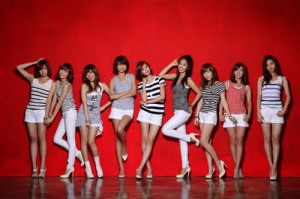 After SNSD's goodbye performance on MBC's Show! Music Core that concluded their two month-long official promotional activities for "Tell Me Your Wish", many eyes are on them to see what their next steps will be.
After releasing their mini album "Tell Me Your Wish" in June, SNSD went on to sell 100,000 copies of their album, and scored the number one spot on KBS 2TV's Music Bank and SBS' Inki Gayo, as well as many other music charts, and successfully spread out their promotional activities across the industry. Moreover, following the "Gee" fever which started the trend of skinny jeans, "Tell Me Your Wish" also added on hot pants as a must-have fashion item, as well as their popular "hacky sack" dance that greatly appealed to the masses.
A representative from SNSD's agency SM Entertainment said, "Following SNSD's promotional activities for 'Tell Me Your Wish', we are planning on steadily continuing on the current individual DJ and MC activities as well as variety programs," adding "Looking back at the promotions from 'Gee' to 'Tell Me Your Wish', you can see that SNSD presented themselves not just as a group, but with each member's character and personalities, they were able to fully appeal to many people according to their specific area, and we will show a yet another side to SNSD in the future."
Additionally, SM added, "Moreover, despite the nonexistence of any promotional activities, "Tell Me Your Wish" was able to take the number one spot on music charts in the Philippines, Thailand, and China, showing the steady fan interest of the Asian fans. In order to repay this appreciation, we are considering some sort of event or promotions, but at this moment, we have not made any concrete plans."
"Also, following 'Gee', none of the SNSD members have been able to have a reguar break time, and so to prevent any exhaustion, we plan on adjusting their schedules so that they will have enough time to rest. It's the truth that the members need time to recharge themselves and also to further their own personal self-development."
Source: http://news.mk.co.kr/outside/view.php?year…9&no=434016
Translation: boxclub @ soshified.com/forums