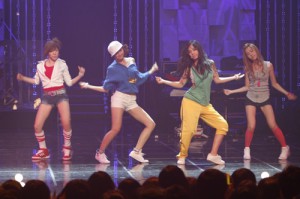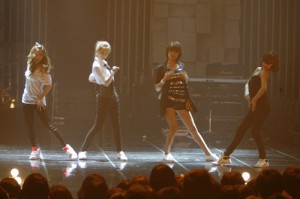 SNSD performed a special dance battle on stage.
In the recording of SBS 'Kim Jungeun's Chocolate', which is to be aired on August 15th, SNSD surprised the audience with a series of never-before-seen hot dance performance.
SNSD members were divided into two teams for the dance battle: The 'Sexy' team (Taeyeon, Sooyoung, Tiffany and Seohyeon) versus the 'Powerful' team (Yoona, Jessica, Yuri and Sunny).
On this day, SNSD members discarded their 'pure and innocent' look and dominated the stage with charismatic performances of 'Womanizer' by Britney Spears and 'Hollaback Girl' by Gwen Stefani.
Furthermore, SNSD's dance queen Hyoyeon performed an impressive and powerful dance solo on stage. All nine members joined as a group to conclude the dance battle with a sexy and powerful performance, illustrating an example of South Korea's best female group performance.
SBS 'Kim Jungeun's Chocolate' will be broadcasted on August 15th at 12:10am.
Translation: Glucose@soshified.com/forums
Reporter: Lee Mihye, macondo@newsen.com
Source: newsen