SNSD Tiffany, 'Golden Ladder' Sexy Charisma!
Popular girl group SNSD's member Tiffany showed off her sexy charisma.
The girl group that makes the Queen nervous, SNSD appeared on KBS2 variety show 'Challenge Golden Ladder'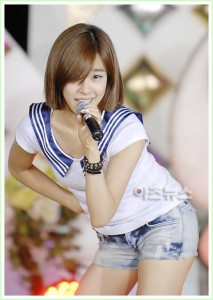 'Challenge Golden Ladder,' was filmed at the pride of Choonchun, Hallym University. SNSD(Yoona, Sooyoung, Yuri, Taeyeon, Jessica, Tiffany, Sunny, Seohyun and Hyoyeon), who is recently gaining popularity with 'Tell Me Your Wish' appeared on the show as the judges, and showed us some charms.
During the 'Show yourself~' corner where people show off their charms, many students tried their best to get picked by SNSD. SNSD also participated and brought up the cheering from the fans in the audience.
On the other hand, the 3,000 fans that came to meet SNSD made Hallym University very chattery.
SNSD member Jessica sang the song she sang with comedian Park Myungsoo in MBC 'Infinity Challenge,' 'Naengmyun' live without background music, which made many fans' hearts tremble.
It is predicted that MC Ji Sukjin, Boom, and Super Junior's Leeteuk's smooth MCing and SNSD's charms will give the viewers joy and a big laugh.
Translated by kxjenn @ soshified.com/forums
Original: http://artsnews.medi….com/news/35805