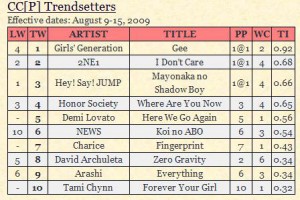 SNSD and 2NE1 dominated the Philippine music chart.
If we look at the Philippine music chart (Chart Central) above, SNSD's 'Gee' is first place in the 'Trendsetters' section from August 9-15. 2NE1, which includes a member from the Philippines, is second place in the same category with the song 'I Don't Care.'
SNSD's 'Gee' especially received a lot of attention because it was fourth place last week but moved up to first place.
'Trendsetters' allows netizens to vote for one week and instead of combining the number of total votes, they look at the change of votes. For example, if the number of votes increased during the week, the song wins a certain number of points while if the number of votes decreases it loses points. In another words this is a way to find out the 'most popular song and singer.'
SNSD has 0.92 points and 2NE1 has 0.68 points.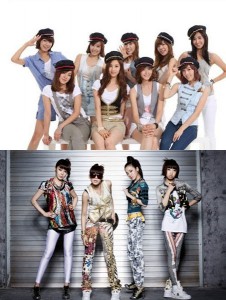 credits: http://news.naver.com/main/read.nhn?mode=L…;aid=0001993051
translation: soshi00@soshified.com/forums