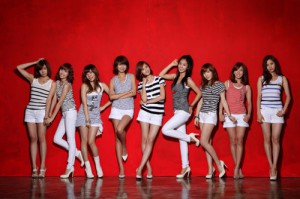 It has been found that the netizens think that out of all the girl groups, SNSD leaves the greatest impression.
Online research service company, Section Bay, recently hosted a poll asking â??Your favourite female idol group in the country is?â?? to which 265 out of 593 people (44%) voted for SNSD.
Furthermore, Wonder Girls, who are busy performing in America, came in second with 168 votes (28%) and 2NE1 and Kara followed.
Meanwhile, there was a poll running for Infinity Challengeâ??s â??Olympic Road Duet Festivalâ??, that aired last month on the 4th and 11th, asking which team was the most favourable, to which Future Liger (Yoo Jaesuk, Tiger JK and Yoon Mirae) took first place. They came out on top by securing 187 out of a total of 510 (36%) votes. MyungCaDrive (Park Myungsoo and SNSDâ??s Jessica) came in 2nd with 19% of votes, Charisma (Junjin and Lee Junghyun) came third with 14% of votes and Gil and YBâ??s (Yoon Dohyun Band) group Uncomfortable People took fourth place with 11% of votes. No Hongchul and No Brainâ??s group, Rock Brain, and Jung Joonha and Afterschoolâ??s group, After Shaving, followed.
Source: Yahoo Korea News
Credit: gdyb @ soshified forums