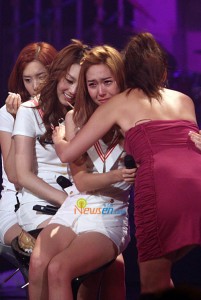 SBS "Kim JungEun's Chocolate" was recorded on the 29th at 7pm at the SBS atrium in Deungchon-dong.
The recording had the concept of a "Summer festival" and took place as a standing concert to not only be a concert that one may watch, but one that everyone can enjoy.
Popular group So Nyuh Shi Dae (currently promoting Tell Me Your Wish) was present showing off a variety of performances that included dance battles and members playing instruments.
The "Chocolate" staff stated that, "with the increase in our viewer rating on the weekend, we have thought a lot about what content to include. We are planning to connect with the audience at the site and at home even more by revealing new and different images of the guests."
This day, outside of So Nyuh Shi Dae,the group Cool (promoting Bogo Bogo), YB, Hot Potato (Kim C, Ko BumJoon), KangSanEh, etc, were present.
In addition, the girls of So Nyuh Shi Dae cried during the recording when a member's mother had a surprise guest appearance.
credit: aseo @ soshified forums
source: http://kr.news.yahoo.com/service/news/shel…mp;newssetid=83
http://www.newsen.co…907292052511001