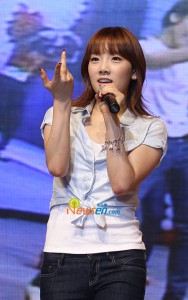 SNSD's Taeyeon has been hospitalized for cold-related symptoms.
On July 26th, after Taeyeon has performed on SBS Inkigayo, she went to hospital because she suddenly had a high fever and tonsillitis (inflammation on tonsil);
When she got to the hospital, she received IV treatments and prescriptions.
The news that Taeyeon came to the emergency room was spread by the patients who were at the hospital; Taeyeon and her manager went to the hospital in ShinChon.
According to SM, Taeyeon went to the emergency room because her tonsils were swollen and she had a high fever.
SM disclosed that she's currently recovering.
SNSD is currently promoting their mini-album 'Tell Me Your Wish"
———-
Ok since the article itself mentioned that she went to the hospital after she performed with the girls on inkigayo, this news is couple days old.
Credits:
original link
Written by: Lee Jaehwan
Translated by: cathode@soshified.com/forums
이재환 star@newsen.com