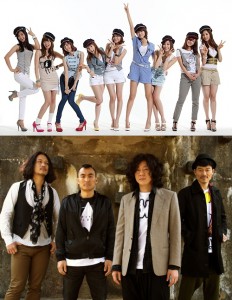 SBS â??Kim JungEunâ??s Chocolateâ?? (AKA Chocolate) is preparing for a â??standing*â?? concert with a line-up of dazzling guests.
â??Chocolateâ?? is currently in preparation for the summer special set to air on the 8th of August. The special, named â??Summer Festivalâ??, will transform into a music program designed for people to enjoy by making it â??all standingâ??.
The staff of â??Chocolateâ?? stated, â??We have changed the stage to allow for the standing concert therefore the distance between the audience and the guests will be minimal. They will perform by placing importance on the music and the party atmosphere.â?
The recording of the summer special, taking place on the 29th of July, will feature SNSD who are currently riding the popularity wave with â??Tell Me Your Wishâ??. They are currently preparing a variety of performances such as a dance battle, instrumental performance etc, that is difficult to see on other music programs.
The staff revealed, â??Since we began broadcasting on weekends, the viewer ratings have gone up so we are brainstorming in terms of content as well. Unveiling a new side to a guest and increasing seats are a given, but we are also planning segments that will allow for more interaction with the audience.â?
Besides SNSD, this summer special recording will also feature summer group Cool returning with â??Bogo Bogo (See Again Again)â??, YB (Yoon DoHyun Band), Hot Potato, Kang Sanae and more.
*Note: A standing concert is a concert in which the audience stands up instead of sitting on seats like they normally would.
Source: Newsen
Credit: gdyb@soshified.com
Edit: Sorry, I wrote that that the recording was on the 27th. Its the 29th. Fixed now.