Ok .. so there's no official article on this. But I had to post here, because I know this is a really popular place on Soshified!
For those unfamiliar with twitter.com: http://en.wikipedia.org/wiki/Twitter
[quote]Twitter is ranked as one of the 50 most popular websites worldwide by Alexa's web traffic analysis. Although estimates of the number of daily users vary because the company does not release the number of active accounts, a February 2009 Compete.com blog entry ranked Twitter as the third most used social network based on their count of 6 million unique monthly visitors and 55 million monthly visits. In March 2009, a Nielsen.com blog ranked Twitter as the fastest-growing site in the Member Communities category for February 2009. Twitter had a monthly growth of 1,382 percent, Zimbio of 240 percent, followed by Facebook with an increase of 228 percent.[/quote]
And for reference a "Trending Topic" on Twitter is basically a really "hot" keyword that gets displayed on the right side of Twitter.com for everyone to view and is clickable. With the hundreds of tweets coming in from SNSD fans from around the world, we were able to get SNSD on that very cool list.
And here are the screencaps: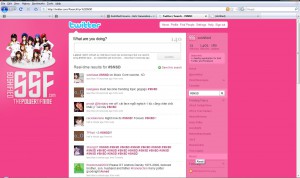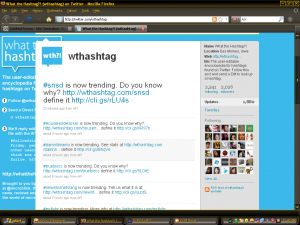 And SNSD's trend on sites:
http://www.whatthetr…m/trend/%23snsd
http://twitiki.co.uk/snsd.aspx
Keep posting up pictures. This is pretty epic guys :)
At one point SNSD owned Harry Potter on the site!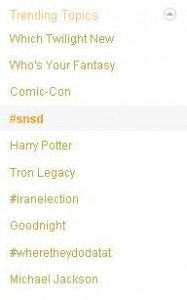 Hahahahaha Top 3 baby!
Just a heads up we were trending for like 6hours before we were kicked off according to hot tweet!~ Maybe we should coordinate another day to do this :)