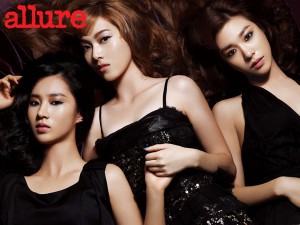 SNSD reveals an elegant photo shoot.
Yuri, Jessica and Tiffany were selected at a photo shoot in contract with Christian Dior.
On the 21st, the wellbeing lifestyle magazine 'Allure' was released,
revealing the photos taken in an eight day period.
The concept of the shoot was 'La Dolce Diva' (The Sweet Female Singer).
SNSD showed a different side to their usual cute and lively image;
they gave off a chic and mature elegance, much like an alluring Jazz club diva.
Tiffany emphasized a stunning sharp look of the eye with her dark smoky makeup;
contrasting to her usual 'eye laugh.' Jessica emanated a haughty look with her wild hair and blue nail colouring.
Yuri set aside her pure and innocent look with her black sleeveless clothing.
What will the fans think of SNSD as they escape their 'Girlish' look to become a â??Lady?â??
They truly are "Alluring."
Source: News MK
Translation: Just Love @ Soshified.com/forums