[07.10.09] SNSD sets the best score to date, No.1 for "Music Bank"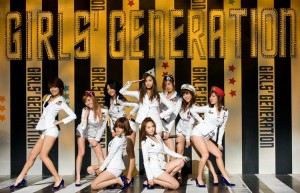 The title track "Tell Me Your Wish" from SNSD's second mini-album attracts interest by going up to No.1 the first time with the best score to date on music charts. With the modifications on the album cover and the delay of the release date, they got 0 points in the categories "offline sales" and "viewer's choice scores" on the 3rd of July on KBS Musicbank but they managed to follow up with a No.1 in "online sales" leaving them behind with a small difference. On the 10th, SNSD got No.1 with setting a new record for the best score of 17995 points for KBS Music Bank. In addition to "Gee", which was the most consecutive times at No.1 on the K-Chart earlier this year, SNSD is now holding the record for the best score too.
On this day, SNSD showed a refined performance with their "Hacky Sack dance"/"Beautiful legs dance", and they said in their No.1 speech: "We pass all the honor to the people from the company and participants who worked hard for us. We want to say thank you, especially to our fans."
Coming back with a refined trance dance song after growing out of the hook song, which dominated the overall music market, SNSD's second mini-album "Tell Me Your Wish" swept various online, offline and weekly charts immediately after its release and a more mature song and performance have led to winning them more attention.
[…]
Source: Anihan News
Translated by Xeth@soshified.com/forums
Edited by Soy@soshified.com/forums