Girl Groups, An Explosive Competition '2nd Round Starts'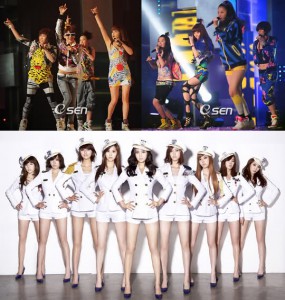 [OSEN Reporter Lee JungA]
It's summer, and there is something that will make it this hot summer even hotter and fun. The reason is – something you can't help but feel happier and energized – the upcoming girl groups friendly competition.
In the first half of this year, girl groups, with SNSD in the lead, and other female groups like Kara, swept the music scene by storm, overflowing it with energy and great atmosphere. This time, expectation are high with the pioneer girl group, SNSD, and the new debutants of 2009, 2NE1 and 4minute, revitalizing the music industry for the second half of the year.
SNSD, who conquered the first half of 2009 with 'Gee', recently announced their comeback with their new song 'Tell me your wish'(Genie). 'Tell me your wish'(Genie) is a song for all those that are tired of their daily routines or have lost confidence in themselves, for them, SNSD will become 'Goddesses of Fortune', giving them energy and vitality, strength to recover lost courage and passion.
There has been tremendous interest in the picture that was revealed before their comeback, in which the SNSD wore clothes with a 'marine look'. Likewise, there is a huge interest in SNSD's chances of repeating or not a hit comparable to the 'Gee' syndrome once again.
[…]
[…]
[…]
Obviously, none of these girl groups are going to give any concessions in this explosive competition. Nevertheless, I look forward to the energy that they'll bring to the music scene.
happy@osen.co.kr
Source: Osen
Translation: Cph@Soshified.com