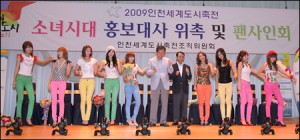 K-pop group Girlsâ?? Generation, Incheon Mayor Ahn Sangsoo, sixth from left, and Chin Daeje, on his left, chairman of the Global Fair and Festival Incheon 2009 dance to the group's hit song "Gee" at Songdo Convensia Convention Center, Sunday. The nine-member girl group was appointed as goodwill ambassadors of the Incheon Festival.
Pop idol group Girls' Generation have been appointed goodwill ambassadors for the Global Fair and Festival Incheon 2009, Sunday.
The nine members of the group had an autograph event for 100 children from child-headed households. The participating children were chosen through an event at the fair's Web site in May celebrating the month of the family.
Girls' Generation debuted in 2007 with their first single "Into the New World" and their latest hit was "Gee." The members also appear in dramas and variety shows individually ― Taeyeon, the leader, hosts a radio show, Yoona starred in "Cinderella Man," which ended last week, and Tiffany and Yuri emcee a music program on Saturday afternoons.
After the event, Incheon Mayor Ahn Sangsoo and the fair's Chairman Chin Daeje appointed the group as goodwill ambassadors for the Incheon Fair.
The group also presented fair tickets to the children and announced their future plans.
The Incheon Fair is a comprehensive festival with a variety of exhibitions and events. The fair will begin August 7 and continue for 80 days with the theme of "Lightening Tomorrow" at Songdo International City, part of three Free Economic Zones in the city.
The fair has five main subjects ― Development of New City, Environment and Energy, Advanced Technology, Tourism and Leisure, and Culture and Art.
By Kwon Mee-yoo
Article from: The Korea Times
———————————
Mayors and chairmen dancing to Gee xD